PRESENTED HERE IS A KNOWN AUTHENTIC YURI GAGARIN AUTOGRAPH THAT WAS OBTAINED IN-PERSON IN 1962. THE REASON FOR PRESENTING IT HERE, IS TO PROVIDE COLLECTORS WITH A RARELY SEEN FOR-CERTAIN GENUINE EXAMPLE, WHICH CAN BE USED AS A REFERENCE AND AS A COMPARISON TO OTHER YURI GAGARIN AUTOGRAPHS IN HELPING TO DETERMINE THEIR AUTHENTICITY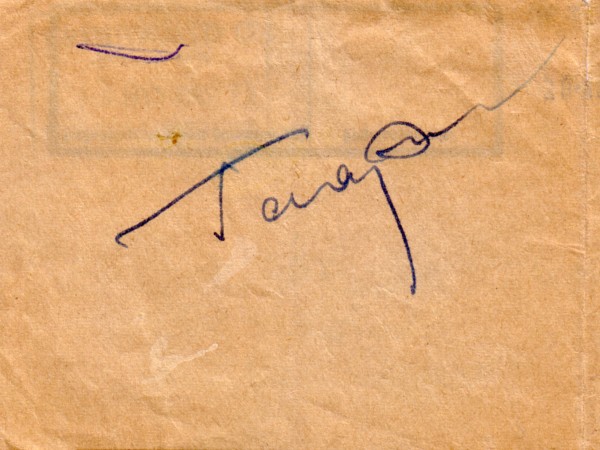 Authentic in-person Yuri Gagarin autograph
Authenticity is a major problem for those desiring a Yuri Gagarin autograph for their collection. As shown on my Yuri Gagarin-1 page, signatures said to be by Gagarin are plentiful and easy to find. For those collectors who are easy to please and who are less discerning, it's very easy to buy a Gagarin autograph in many places and then congratulate oneself on adding a signature of the first man in space to one's collection.

But to those really serious and concerned about authenticity, there is little to refer to or compare to when it comes to choosing a Gagarin signature for their collection. There just aren't any resources or Websites known displaying for-certain authentic Gagarin signature examples for comparison and few individuals to ask for assistance.

But recently a lady in Sweden has come forward with a Yuri Gagarin signed item with solid provenance and a history that assures authenticity. Her account follows below, along with scans of her Gagarin autograph, in closeup (at left), and also showing the entire signed piece (below). Displaying this authentic example here, measuring about 8x12", is intended to serve as a helpful benchmark, a standard, by which other Gagarin signature examples may be compared to and judged against.

This is her account of her sister obtaining Yuri Gagarin's autograph in person:
"In September 1962 the Teacher's Training College of Kristianstad, Sweden, went for a trip to Denmark. On the ferry between Sealand and Fyn they met with Kosmonaut Yuri Gagarin. The 20-year old Ewa, forward as ever, decided to reach him to get an autograph. She took a friend and went to the Captain's bridge where Yuri Gagarin was being filmed.

He was wearing make-up and the most noticeable feature about him was that the uniform jacket and trousers had different colours. Ewa did not find any scrap of paper other than a freight note for a bicycle and on the back of that Yuri Gagarin wrote his signature with her Ballograf ballpoint pen after first testing it for fluency!

The autograph has been in her possession ever since. Carefully kept she has shown it to all her students for 40 years.

On Sept. 7, 1962 Gagarin was received by the Danish King and afterwards he was given dinner by the Danish Government. The official programme included a visit to the HC Andersen House in Odense, and it was on the ferry trip across the Store Belt Strait that Ewa got the autograph. Ewa is my sister and has saved the precious item for 42 years."